[mp_row] [mp_span col="12″] [mp_heading]
Interactive Displays
[/mp_heading] [/mp_span] [/mp_row] [mp_row] [mp_span col="6″] [mp_image id="3758″ link="#" target="false" align="left"] [/mp_span] [mp_span col="5″] [mp_text]
We sell a wide range of Interactive Whiteboards for schools. We are partnered with Promethean to deliver the best quality interactive whiteboards available. We can also offer direct support for any issues / installation of the interactive whiteboards.
Because different schools have different needs, McDonnell IT Solutions can offer a variety of interactive whiteboards to suit your needs directly, enabling you to utilize one of the best tools for teachers and students in the classroom.
[/mp_text] [/mp_span] [mp_span col="1″] [mp_text] [/mp_text] [/mp_span] [/mp_row] [mp_row] [mp_span col="12″] [mp_heading]
Our Interactive Whiteboard Systems
[/mp_heading] [/mp_span] [/mp_row] [mp_row] [mp_span col="12″] [mp_text]
Our interactive whiteboards use the latest technology and utilize new features to help deliver the best learning experience possible. By using our interactive whiteboards you will also have access to our excellent support should any issues arise. We also take care of the installation process to set up the interactive whiteboard with your schools network o have everything working as it should be.
The newest range of Whiteboards allow multiple users to interact with the board at any given time, which allows for a seamless and natural integration to the classroom. Teachers can also create dynamic lessons and schedueles for each day and can also use PC and MAC Applications because of the whiteboards software. This means, for example,  you can easily set up Microsoft PowerPoint presentations for a class and go through it with ease without the need for additional hardware or software.
If You are interested in using our interactive whiteboards you can Contact Us Here for more information.
[/mp_text] [/mp_span] [/mp_row] [mp_row] [mp_span col="12″]
SmartBoard Interactive Boards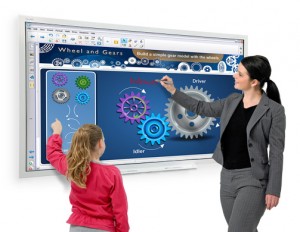 Responsive touch functionality by SMART that's more natural and seamless than ever before, and low-friction coated surface that stays cool to the touch. Go from pen to fingers to palm of your hand with object awareness. Flick, rotate, zoom, erase using natural touch gestures that are intuitive and easy to use. With multi-touch interactivity, multiple students can work together or independently at the panel with fingers or a pen. Powered by SMART Notebook collaborative learning software which sets the standard for creating, delivering and managing interactive activities within a single application. This award-winning software includes a rich set of activity creation and delivery features and connects you to an exciting ecosystem of content, tools and support.
By focusing on delivering solutions for real issues within the classroom and beyond, such as improving attainment, decreasing absenteeism as well as engaging teachers to deliver powerful results and solutions for mobile or personalised learning, SMART can truly offer inspired collaboration within your learning space.
McDonnell IT Solutions offers a wide range of SMARTBOARD Interactive Whiteboards, in a variety of different sizes and features so you can choose the Interactive Whiteboard that best suits your needs.
[/mp_span] [/mp_row]
Promethean Interactive Whiteboards
Enliven teaching and learning with our range of interactive whiteboard systems. Designed to focus attention and provide a platform to boost the interactivity of your lessons, ActivBoard interactive whiteboards and Promethean's teaching software provide the essential building blocks for any digitally connected classroom. Because each classroom is unique, Promethean ActivBoard Systems are available in a wide variety of configurations, enabling you to tailor the right solution to accommodate your needs.
With Promethean's Interactive Whiteboard Systems:
Create an engaging and interactive learning experience with the ability to focus attention and keep curious minds interested in your lesson content
Create dynamic lessons with award-winning ActivInspire software, inject interactivity into Microsoft® PowerPoint® presentations with Promethean ActivOffice or use any program that runs on your PC or Mac on the ActivBoard for a rich and varied learning experience.
Foster collaboration as up to six students work together simultaneously on a joint task.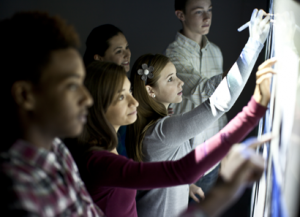 The intuitive multi-touch, multi-user and pen functionalities of Prometheans ActivBoard foster a true collaborative learning experience. Up to four students collaborate at the board, easily moving, scaling and rotating images using intuitive touch functionality, while they employ the interactive pen for real-life pen tasks, such as making annotations or solving math equations.
McDonnell IT Solutions isa proud partner of Promethean, letting us give you the best possible experience, with excellent remote & on-site support along with training and consultation. For more information about our Promethean boards you can Contact us HERE