What is Managed IT Solutions?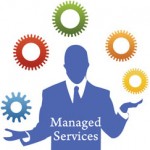 Every business, each year relies on technology in some shape or form. As your business grows, so does the demand on a reliable IT infrastructure to remain agile in a complex environment. If you are reacting to IT issues constantly you cannot concentrate on your core business.  Managed IT Solutions takes this aspect away, and lets you do what you do best, and we take care of all your IT related problems.
McDonnell IT Solutions offers a complete suite of managed services support options.
We offer 3 levels of support from ad-hoc to complete IT department style solution. Where we can monitor your IT infrastructure and intervene where necessary taking precautionary measures to keeps your technology running 110%.  To simply being on call when you need us.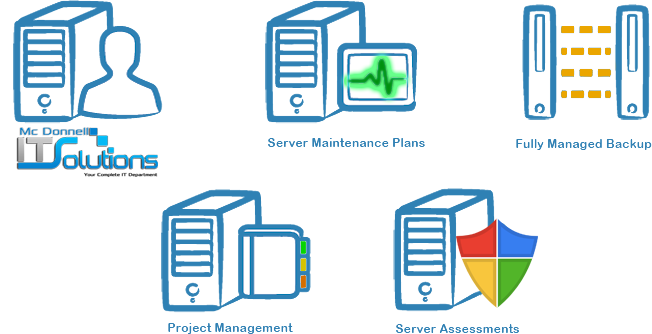 Managed services can provide remotely and onsite assistance, as required, or as a mixture of both. We provide on-going advice and guide you and your staff to get the best from your IT infrastructure and how to best expand it.
We have a simple approach to a support contract and this enables a great working relationship. Our staff is not only highly trained but also friendly and helpful.
Proactive Monitoring & Alerting
Hardware & Software Issues
Backup & Disaster Recovery
Communications & Connective
Anti-virus & Firewall
Client & Server Support Services
Professional Remote & On-site Support
Network Build and Maintenance
Cloud Support
System Administration
Consultancy
Not part of our managed services plans?
We highly recommend that you go on one of our plans that will be catered towards you and your business needs. Other options include our Breakfix Service which you can use right now, right away to solve any immediate problems you might have, without the need to go on a plan. However, we would recommend a Managed Service plan which would suit your needs. Our Managed Service plans will save you both time and money, while increasing productivity of your business as we work hard making sure that all problems are found and taken care of before they impact your businesses productivity.
To enquire about any of these services, or if you would like to start working out a plan tailored to you, you can Contact Us Here via Email or Phone
McDonnell IT Solutions offers support nationwide. Listed are some of the areas we cover near our location in Oldcastle, Co .Meath, however if you are not listed below, just contact us. We are happy to offer Remote Support anywhere in the country and on-site support for the Midlands & North-East regions.